Tripawds is a user-supported community. Thank you for your support!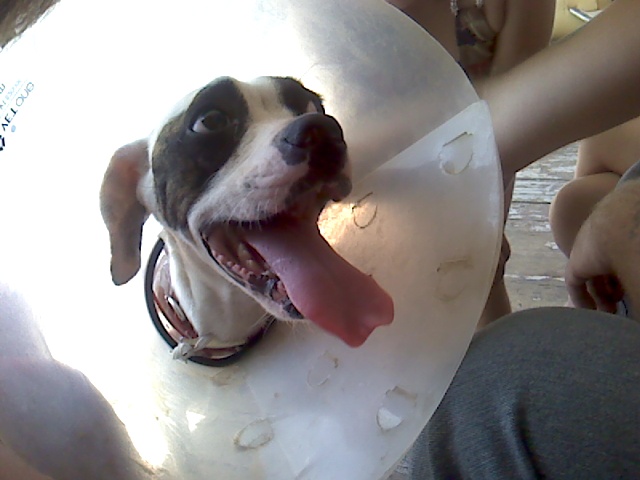 Panda is a 10 month old boxer mix, who is full of love, life and energy.  Monday July, 12, 2010 Panda was hit by a car.  She brought herself back home and so began the journey.  The first hurdle we had was finding a vet who was open and could see her after hours, as it turns out that is not an easy feat.  Finally, my husband called one of the vets at home and he rushed to meet us at his office.  Within a matter of minutes he told us that she would have to have her leg amputated.  He also told us that if we had to be grateful for anything that had happened it should be that she had been dragged by the car because the wound was cauterized by the friction burn and that is why she did not bleed to death before making it back home.
Our next hurdle came when the vet explained that he would not amputate her leg until she was strong enough, so first we had to see if she would survive the night.  At this point my nerves are at their breaking point and I was crying uncontrollably.  I stayed up all night because all I could think about was what would i do without her.  I called the next morning and she was holding her own, then came the second 24 hours of waiting to see if she would survive.  My girl is strong though and she pulled through it!  Friday she had her amputation and she came through that just fine no complications.  I had gone to see her before her surgery and she was almost like my normal girl, wagging her tail, climbing in my lap and of course washing my face repeatedly.  Saturday morning I went to see her again and she was not quite so happy, I just sat and talked with her.  The staff asked me if Panda was a timid dog which surprised me, I explained to them that this is my very active, affectionate, fence scaling dog, she usually barks around strangers so I think being timid was her way of dealing with the strangers.
Panda finally got to come home yesterday July 20, 2010 and so begins the road to recovery.